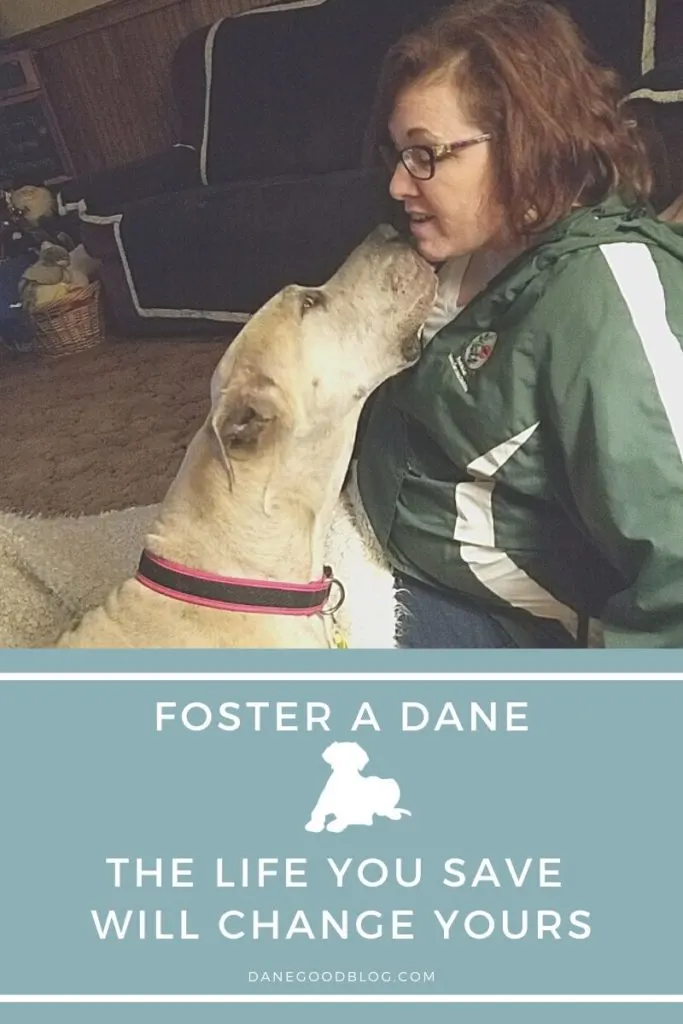 You're going to foster, yay!! I hope this means that your family has discussed this thoroughly and have talked about the pros, the cons, and what you might expect. If you're not sure if fostering is for you, be sure to check out my other blog post and see if you're a good candidate!
No matter how much you talk about it, and how often you've fostered, each dog is different, and even the most experienced fosters and dog owners have trouble sometimes, and that's ok! Hopefully you have a team of supporters behind you to help.
If you have no idea what to expect, I'm here to help you! I just want to share a few basics on how the first few weeks can go, and what to expect when fostering a Great Dane.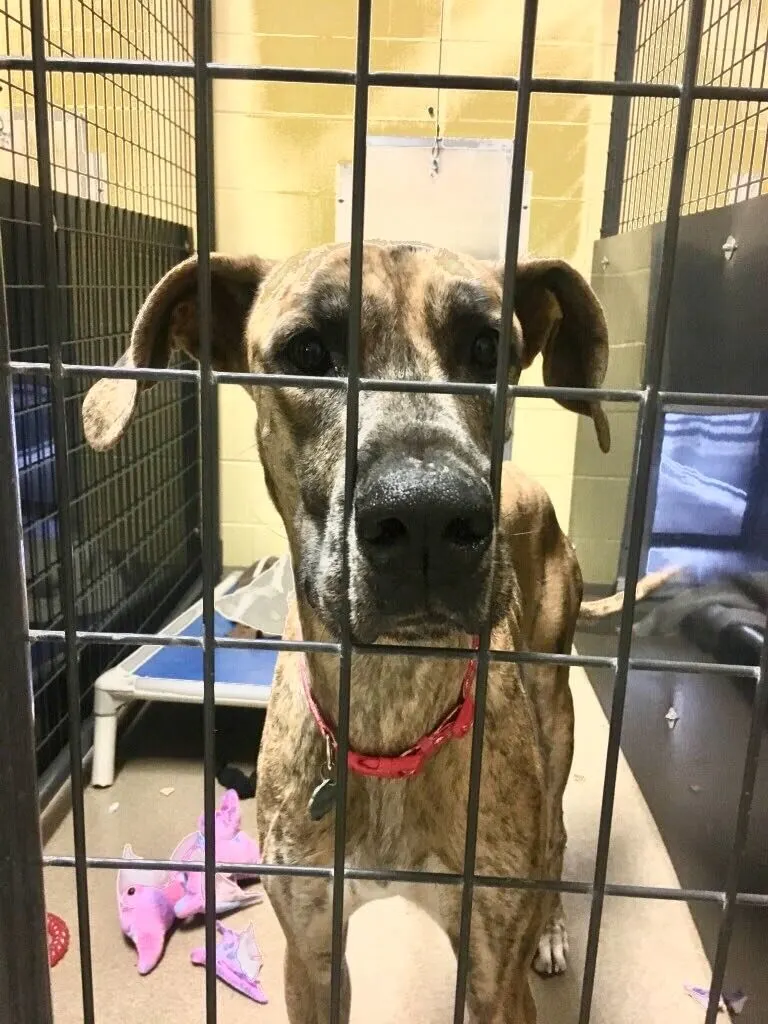 Introductions- How to Welcome "Scooby"
Bringing your first foster home can be scary, you have no idea how the dog will act towards you, your family, or your other dogs. Sure, the rescue said that Scooby is great with other dogs, but Scooby might be terrified in a new environment.
I always encourage my fosters to pick their new foster Great Dane up from the surrendering owner, shelter, or transporter, rather than Scooby being dropped off and watching his owner drive away out the window. Believe it or not, this process creates a bond between you and Scooby. Scooby needs to learn that you're his new person and that you'll take lead to keep him safe.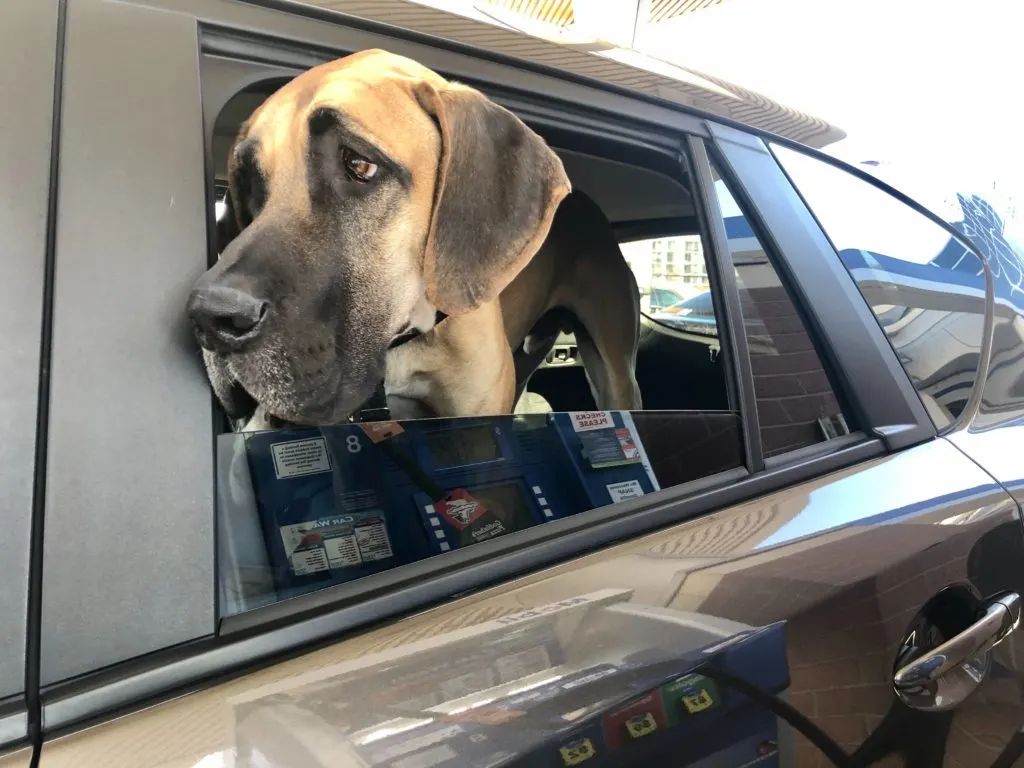 When you are picking up Scooby, and when you bring Scooby home, remember that he's likely terrified. Let him come up to say hi to you and your family members. Give him space, and watch his body language to ensure he's getting comfortable with you. Keep all interactions positive and don't try to "overly get him to love you", let him take his time. He'll come around when he's ready.
Introducing another dog? Keep your dogs temperament in mind. Can you do a nice leashed introduction? You'll need a friend or family member to help you with this. Allow butt sniffs first, walking in circles opposite of one another so the dogs are not nose to nose. You never want to let them meet nose to nose on a leash or you'll notice unnecessary tension.
Once they seem comfortable, take a walk together! If things are going stellar, let them have some on leash, long lead, romping time to play before bringing them into the home.
Have a dog that doesn't do well with a leashed intro? This is me. My Great Dane, Cash, is aggressive on a leash. So we have to be very careful with our introductions to make them as seamless as possible, though it's not as ideal.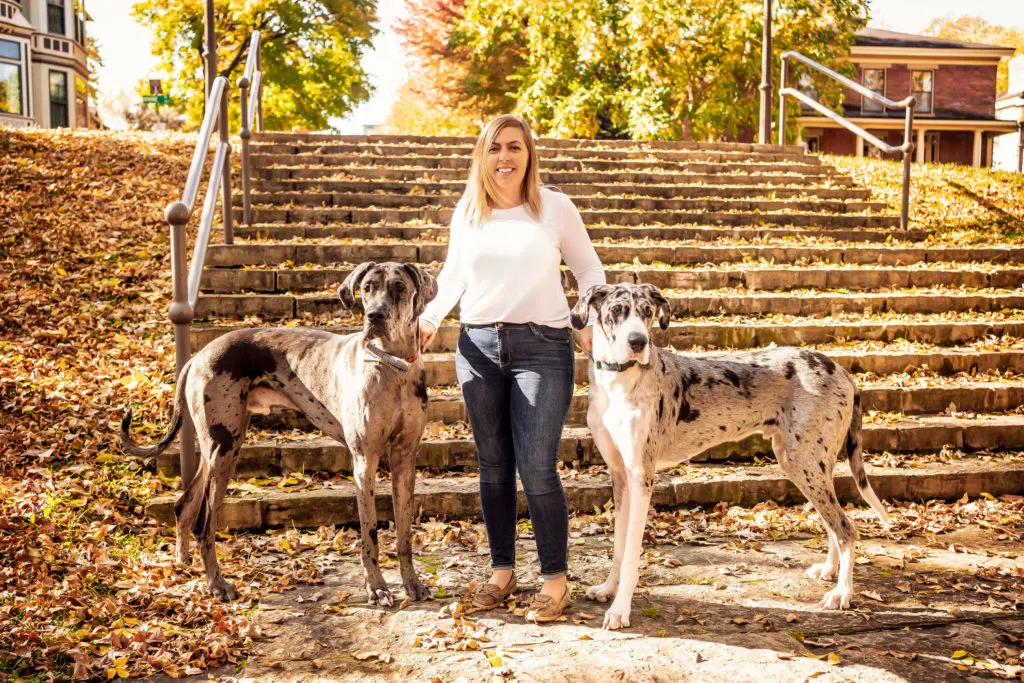 When Cash meets a friend, we have to have Cash out in the yard, or the other dog out in the yard with a long lead (because we don't have a fence), and a separate shorter leash on for control. In this instance, I know Cash and how he will react, so I need to focus my attention on how Scooby will react. He's the one I'm worried about. He's the one I need to focus on and set up for success.
We bring Cash, the resident dog, into the yard to meet Scooby and all eyes are on Scooby's body language to ensure he's comfortable. Have a short leash on Scooby to re-direct if he's not happy, and a leash on resident dog as well, just incase something goes sideways, we are prepared to pull them apart.
You can never be too cautious, but also, don't be too nervous as they sense that too!!
Once the dogs have "met" they may engage in play right away, or they may ignore one another. Either is fine. If they don't engage, don't encourage them too. They will get there on their own time. I like to encourage daily exercise by taking them for a walk together. Pack walks are important for dogs to bond with one another before bringing them into the home together.
If there are any hesitations about introducing the dogs right away, don't rush it. So many people will keep gates throughout the home to let the dogs co-exist without meeting one another, or only seeing each other through the crates and gates. Then slowly introduce when it's appropriate.
When it comes to introducing the humans, it's recommended that everyone in the house is home when Scooby arrives. This lets him meet everyone right away, then when someone comes home from school the next day, it's not a "stranger coming into the home". I cannot stress the importance of this enough.
Behavior- How's Scooby Going to Act?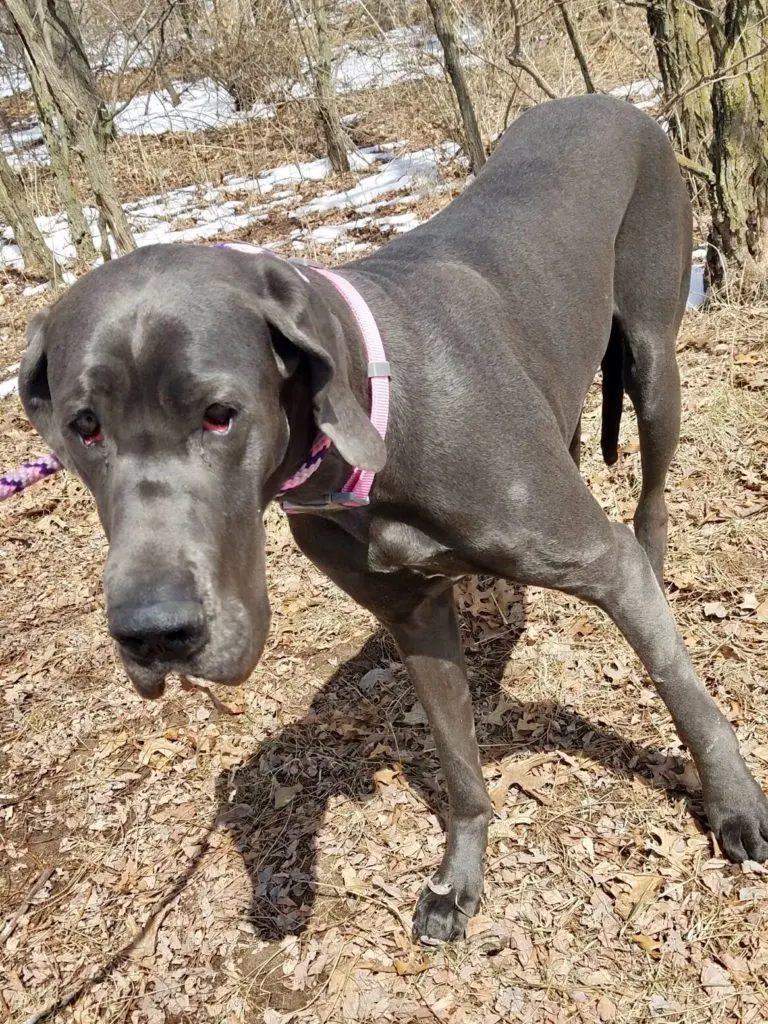 Scooby is going to be sad, scared, and super confused when he gets to you. Where did his owners go? Why did they leave him? Who are you?
Or maybe he's SO EXCITED because you just broke him out of a shelter, or a terrible space! He's almost too excited to a point where he's just not himself yet.
It's hard to know exactly what behavior to expect when bringing in a new foster Great Dane, or any dog, really. However, as a foster and adoptions coordinator, our fosters and adoptive homes often come to me with a lot of questions and concerns within the first few days.
Scooby is confused more than anything. He might not eat, he might not want to approach you for awhile. He likely won't engage in play, and may be a bit standoffish, and that's ok! Scooby might have some potty accidents because he doesn't know where to go, or how to communicate with you yet.
Eventually, Scooby will open up and you'll get to see him blossom into an amazing dog! It might take a lot of time, and dedication, but it's totally worth it.
Triggers/ Training Your Foster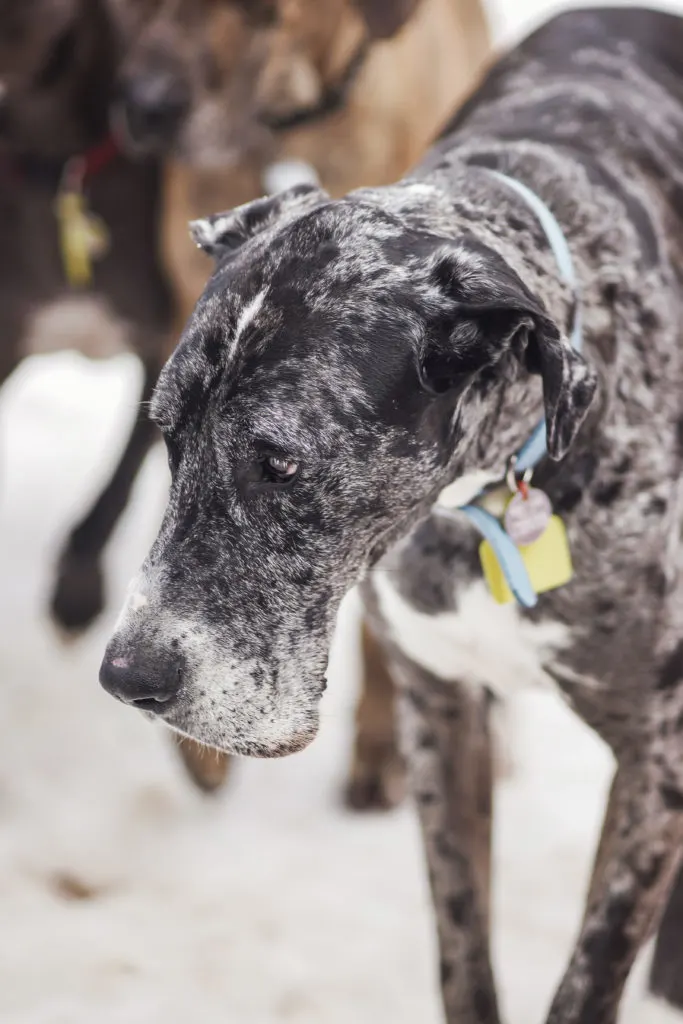 When it comes to fostering, we look for someone who is able to help these Great Danes, overcome their fears if we can and get them ready to find a perfect home.
Is Scooby afraid of men? We might ask you to continue working with men inside and outside the home to counter condition and desensitize Scooby. Show Scooby that men aren't so bad!
Is Scooby timid in general? We'll ask that you help him build his confidence.
Does Scooby have separation anxiety? Let's see if we can get him passed that.
Although we won't be able to completely overcome all of the triggers, what we can do is keep them under control. Find what works and what doesn't work, so that we can set Scooby up for success in his home!
Other Foster Expectations
Expect that you'll need to bring Scooby to the vet for vaccines, and if you notice anything else going on health wise. Please remember not only treat Scooby like he's your own, but also keep finances in check. Often times you'll "keep an eye" on things to avoid a vet visit. Please do the same with your foster even though it's not your money.
Most rescues will have vetting resources but just because the money isn't yours, we still want you to be considerate of what exactly is an emergency. I know our rescue will have you talk with a vet tech, or someone who can guide you on what to do and whether or not a vet visit is needed.
Expect ups and downs, there will be good times and bad with your fosters. You'll be frustrated because you just "don't love them the same as your own", but they deserve to be treated as though you do. They are learning you, your expectations, and your lifestyle. Something that they might not be used to just yet.
Expect to keep your fosters home for 2 weeks, and consider the 2 week shut down. Meaning you don't bring them in public for 2 weeks, and you don't let anyone new into your home for 2 weeks. Take this time to get to know Scooby, and make sure that all choices you make, will set Scooby up for success. There is a great article circling about Your Rescue Dog, it's a great read if you have some additional time.
Attachment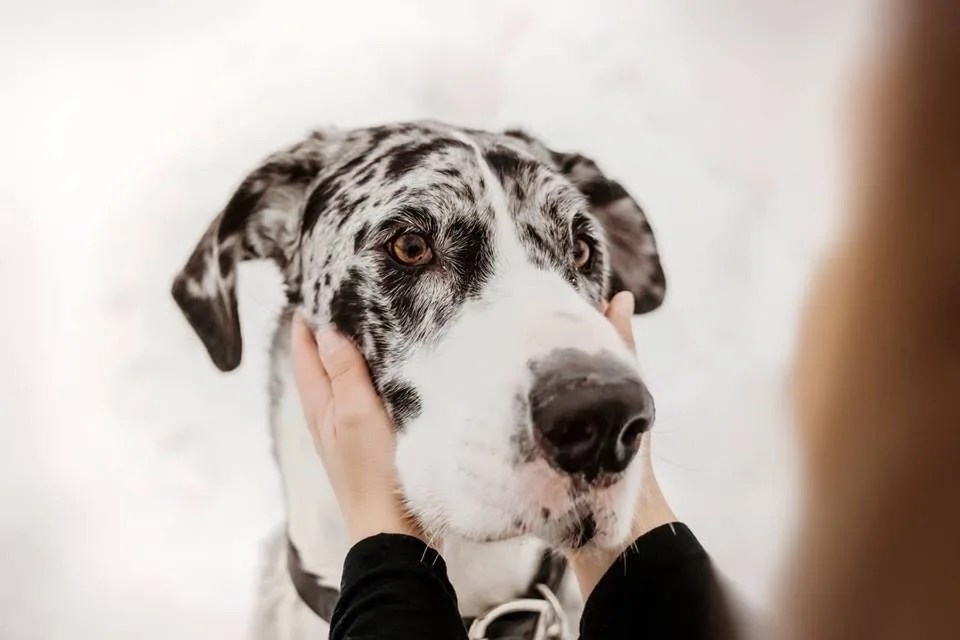 We know you'll fall in love with Scooby, so expect his adoption to bring you both tears of sadness and tears of joy. Look how far Scooby has come! And this is all because of you, because you've opened up your home and your heart to this sweet soul.
Letting go is hard, I cry every time. Heck, I cry even when the fosters aren't mine! Just because I know how hard it is to let them go when you've invested so much time. Remember that saying goodbye, or see you later, only means that you get to help the next Great Dane in need.